The Sample Stack
---
Like to try before you buy? 

You'll get 1 of each of our flavours; Buttermilk, Chocolate, Maple Bacon and Salted Caramel. Each in a cute little 80g packet, aka 2 serves of each flavour. 🥞
Please see respective product page photos for nutritional information for each flavour.
PLS NOTE: Recipe Tweak (better nutrition than on some old packaging)

As of late 2022, our nutritional information has slightly changed (for the better) as per the correct table in the product photos. Our current packaging reflects our old recipe until sold through! Don't stress the macros are better. 🫶

Lower sodium, higher protein, more fiber. We have tried to update as much as we can on MyFitnessPal but appreciate your help in fixing any you catch with the old macros.
🥞 Natural ingredients. 
🥞 No added oils, gums or other nasties.
🥞 Organically and locally sourced.  
🥞 Just add water and get flipping.
🥞 No 'proteiny' taste.
🥞 Made in South Australia.
Wheaten flour 
Whey protein isolate
Pea protein isolate
Baking powder
Bicarbonate soda
Maca powder
Sea salt
Thaumatin (natural sweetener)
Flavouring powders

Click here for more info.
Per 40g serving (one pancake)

🥞 138 Calories
🥞 10.9g protein
🥞 0.4g fat
🥞 21.7g carbohydrate
🥞 1.2g of fiber

(Based on Buttermilk but see 2nd product photo for each flavour to see nutritional information)

40g serve = 1/4 cup = 1 large pancake = easy tracking for you! 😊

Click here for help on calculating how much protein you should get in YOUR diet!
✈️ A note on international shipping

Yes, we are based in Australia and that does mean longer shipping times... for now. Our goal is have distribution centres across the globe so everyone can enjoy fast shipping times.

Until then we ask for your understanding in longer shipping times. We have added transparent shipping estimates at the checkout so you are aware of the number of days expected for delivery for your country.

To ensure we avoid any extra delays please triple check your delivery address is entered correctly.
Pancake Calculator
Want to know how much to order?
This product is rated 5.0 of 5.0 stars.
It has received 23 reviews.
Great Value and Concept
I ordered the sample pack because I honesty wasn't sure which ones I would like. Well, I have come to the conclusion I like all of them, however, a few stood out for me. The buttermilk and salted caramel are just amazing!
This is a great product and I highly recommend buying this before you do a big order so you can see what you like. I got a decent amount of servings out of each packet so it's well worth the price. The pancakes are light, fluffy and delicious! you would not think it is a "protein" pancake if you weren't told. Love it 10/10
Great sample pack
Would be good to have the new cookies and cream in the sample pack.
Flipping Good 😊
I truly enjoyed making pancakes and waffles with protein pancake. My fav is maple bacon flavor 😍 Will definitely order again 🩷
If you have any more questions that aren't found on the full FAQ page. Please contact us at hello@theproteinpancake.co
More FAQs
Do you ship internationally?

Absolutely we do. We ship across the globe, no flipper gets left behind!

As we continue to expand internationally we are always striving to improve our international shipping times. Feel free to reach out if you have any questions!
Your order will be processed and sent from our warehouse within 2 business days (normally same day or 1 day), using tracked shipping via AusPost for Australian and International orders.

Standard AUS: 3-8 business days
Express AUS: 1-4 business days

Standard INTERNATIONAL: 8-14 business days
Express INTERNATIONAL: 3-7 business days
Our protein pancake mix is made from high quality natural ingredients including whey protein isolate, wheat flour, pea protein isolate and maca powder. Please see our full list of ingredients here.
One serving is 40 grams which can be measured out using a 1/4 cup of our dry mix. So 1 pancake = 1 serve, simples! (pending pancake size of course)

Bag sizing.

So you'll get 13 serves our the Medium - 500g bag and 25 serves with our Large - 1kg bag.
If you have any more questions that aren't found on the full FAQ page. Please contact us at hello@theproteinpancake.co
More FAQs
More than just a pancake...
Explore our recipes.
View all
Recipe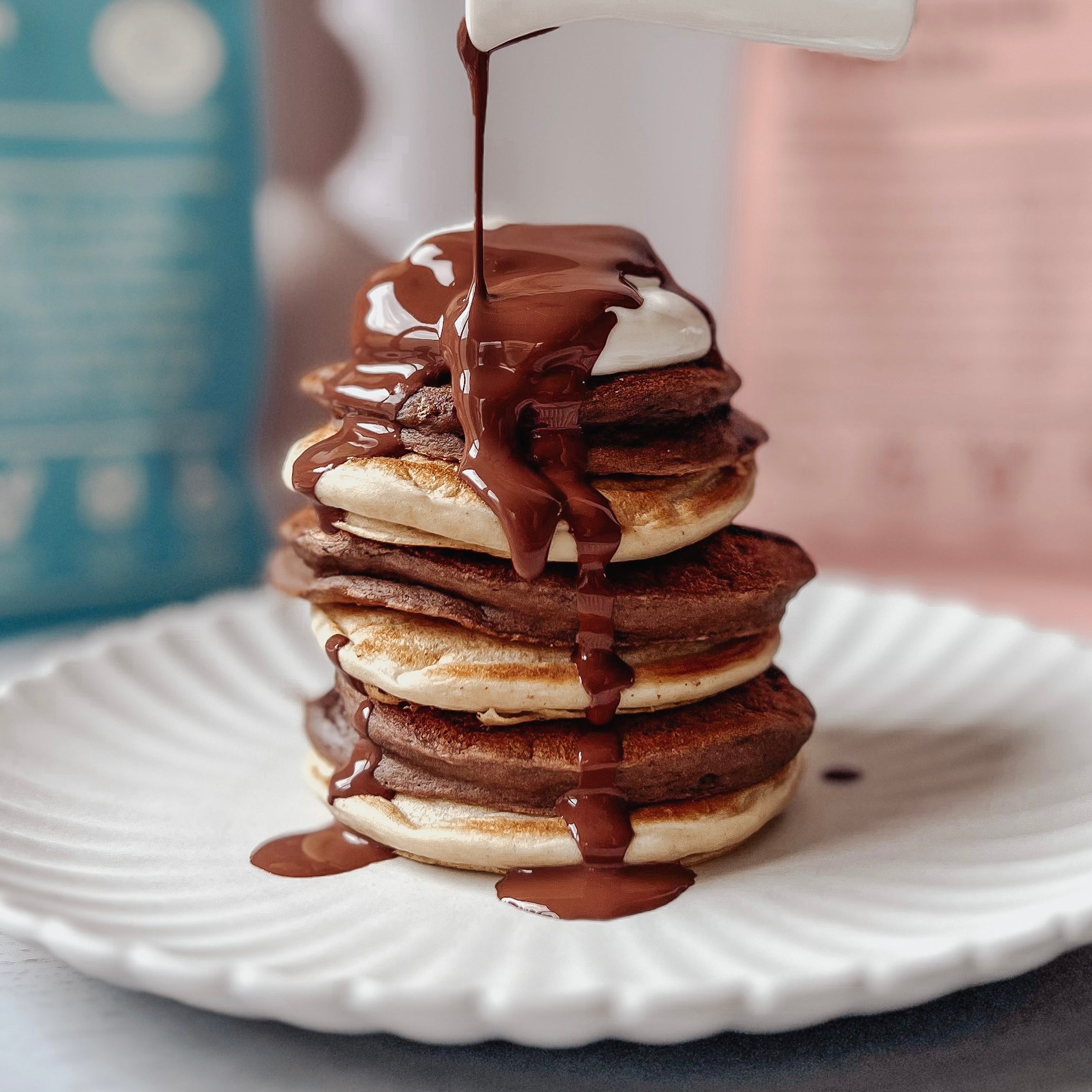 Just a cheeky reminder that it is more than okay to mix and match your pancake mixes... try this one on for size. Chocolate & Vanilla Protein Pancake stack! 
Recipe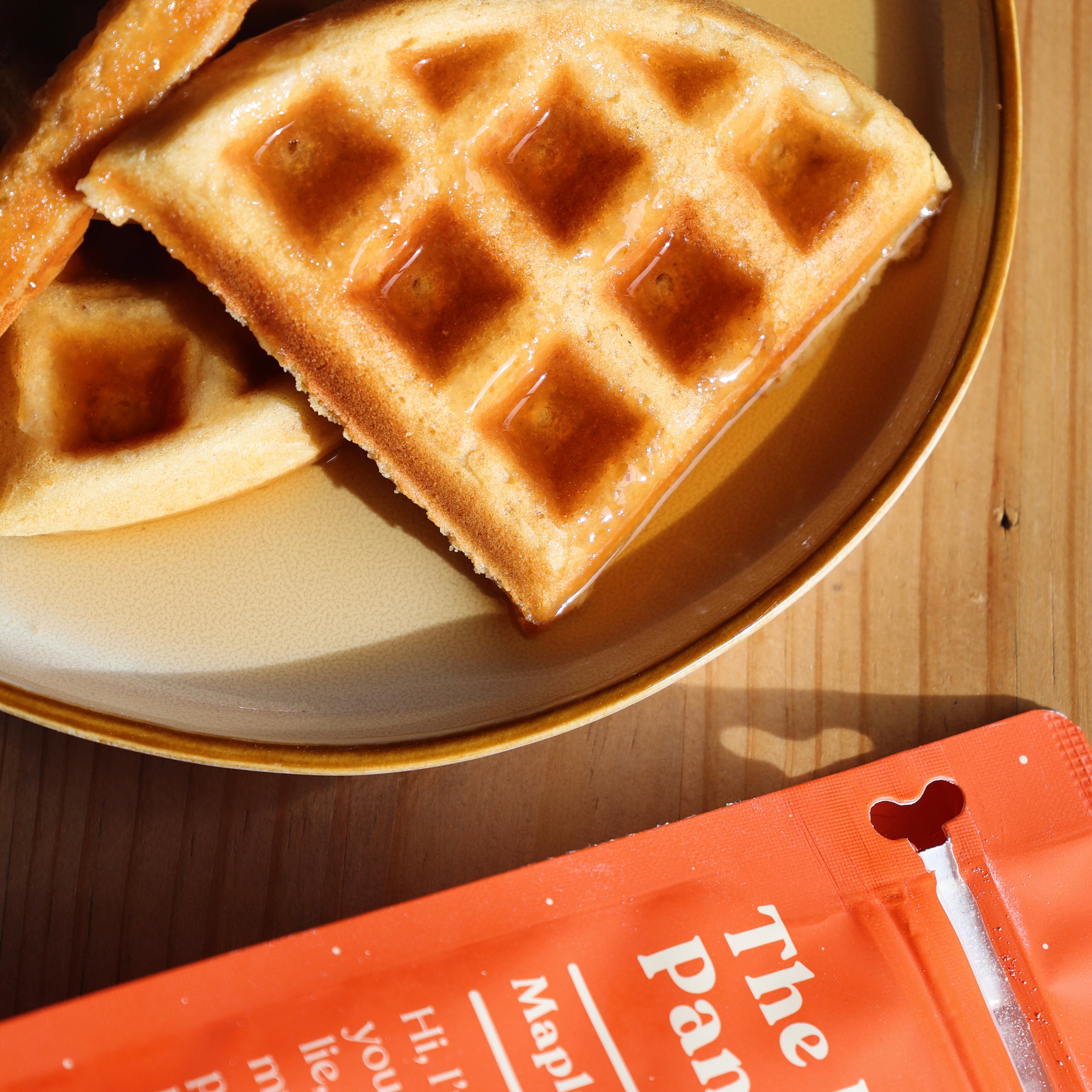 Introducing The Protein Waffle! A simple twist on our classic protein pancake mix to have as healthy afternoon snack, or to replace your morning stack! 
Recipe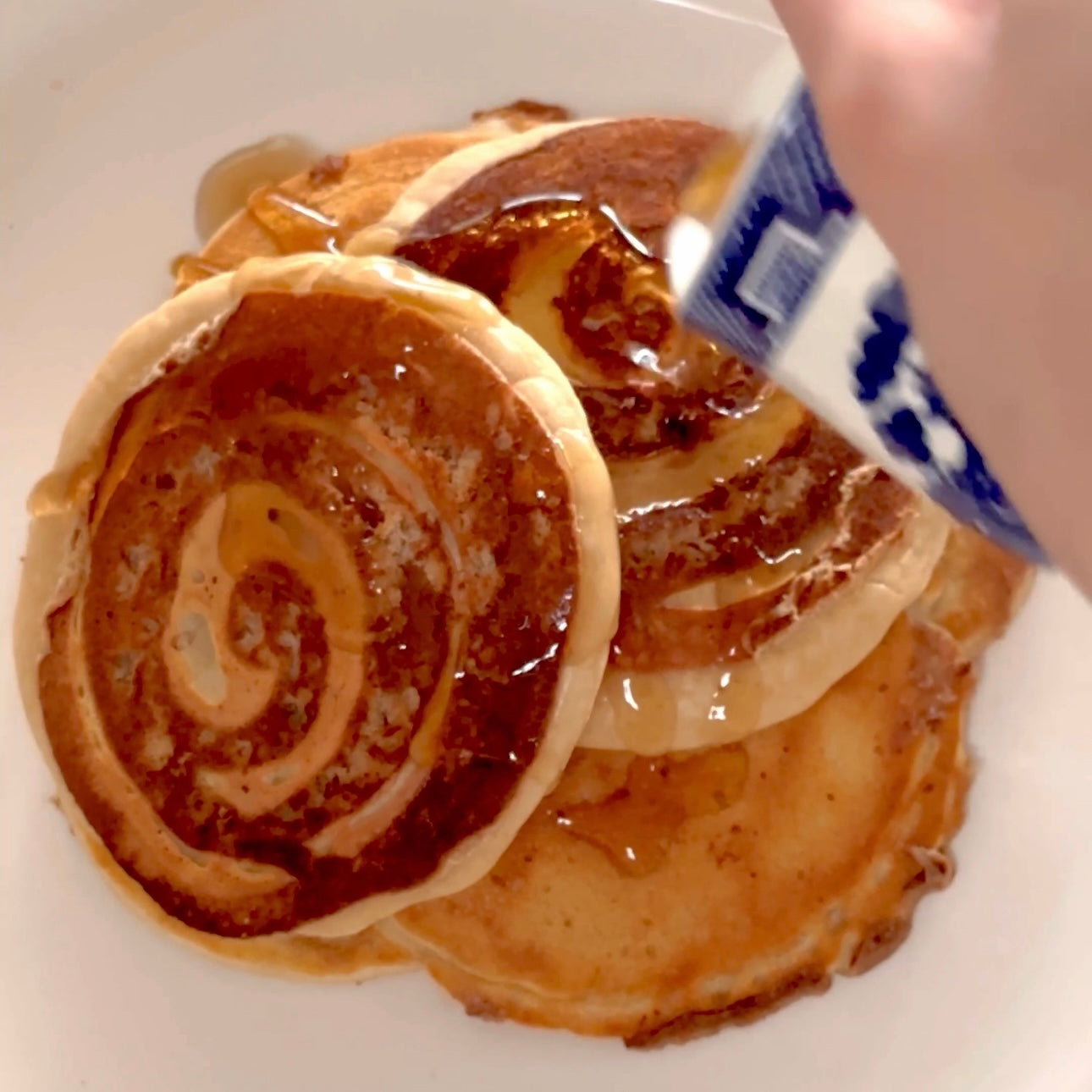 You're going to love this super simple recipe - Cinnamon Scroll Pancakes 🥞👩‍🍳