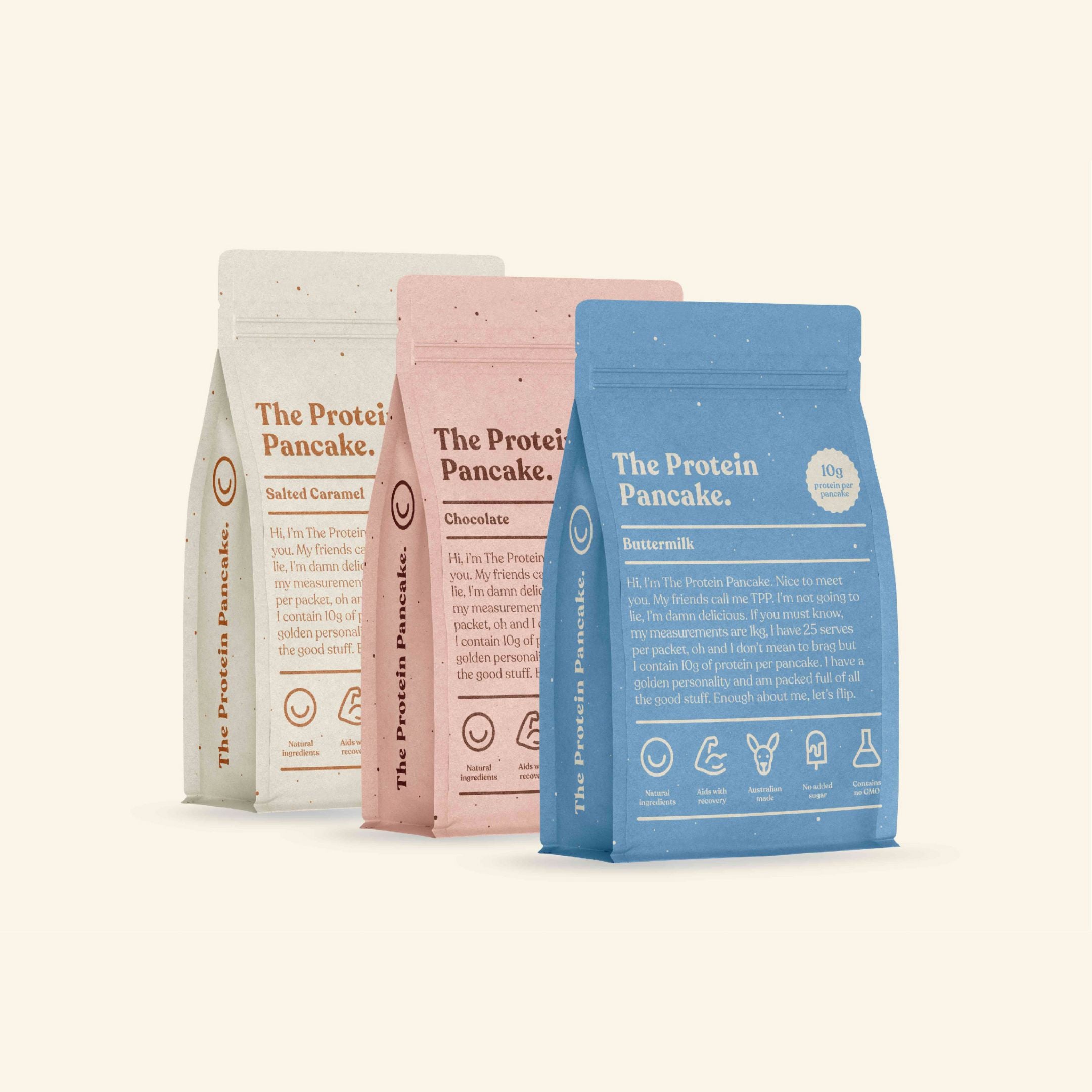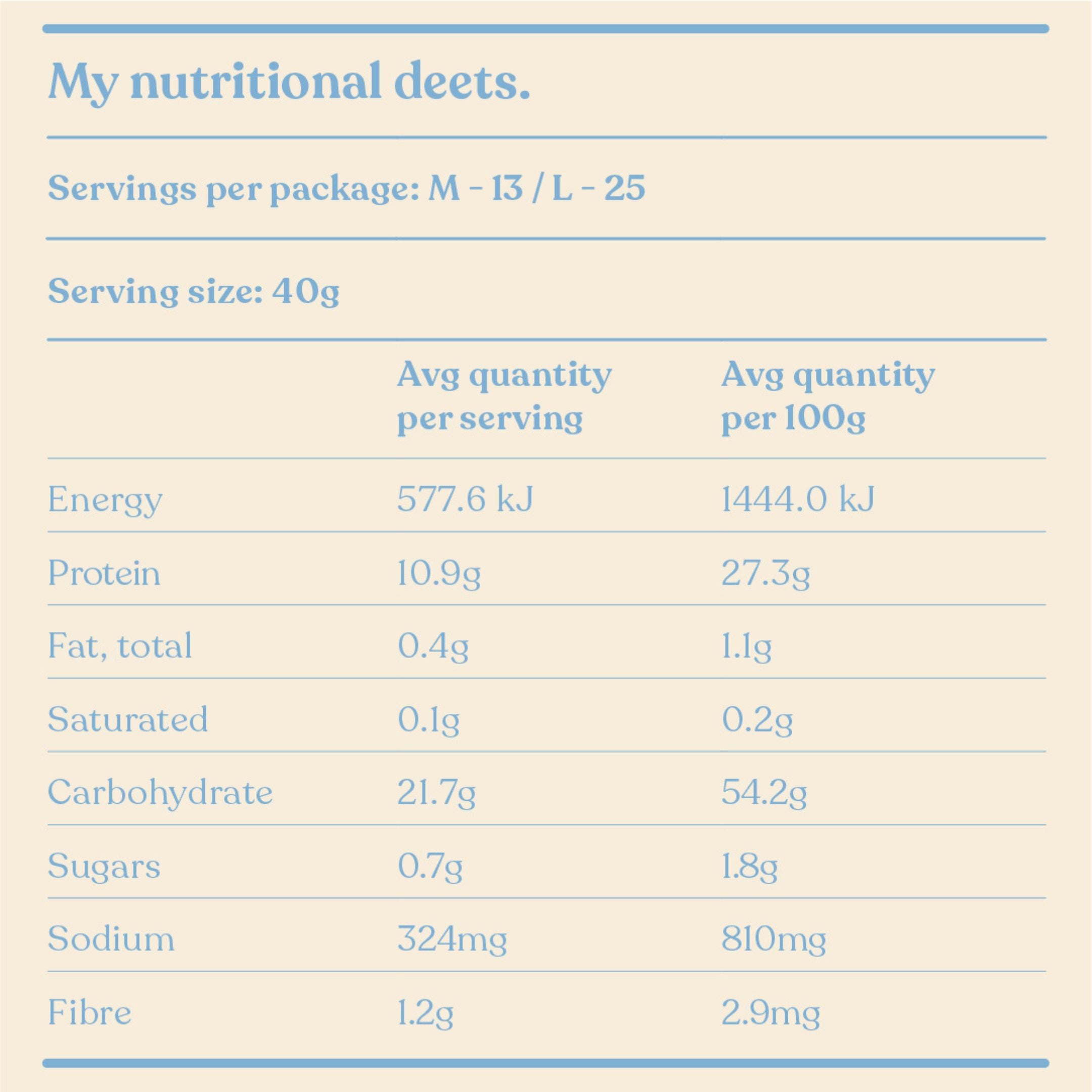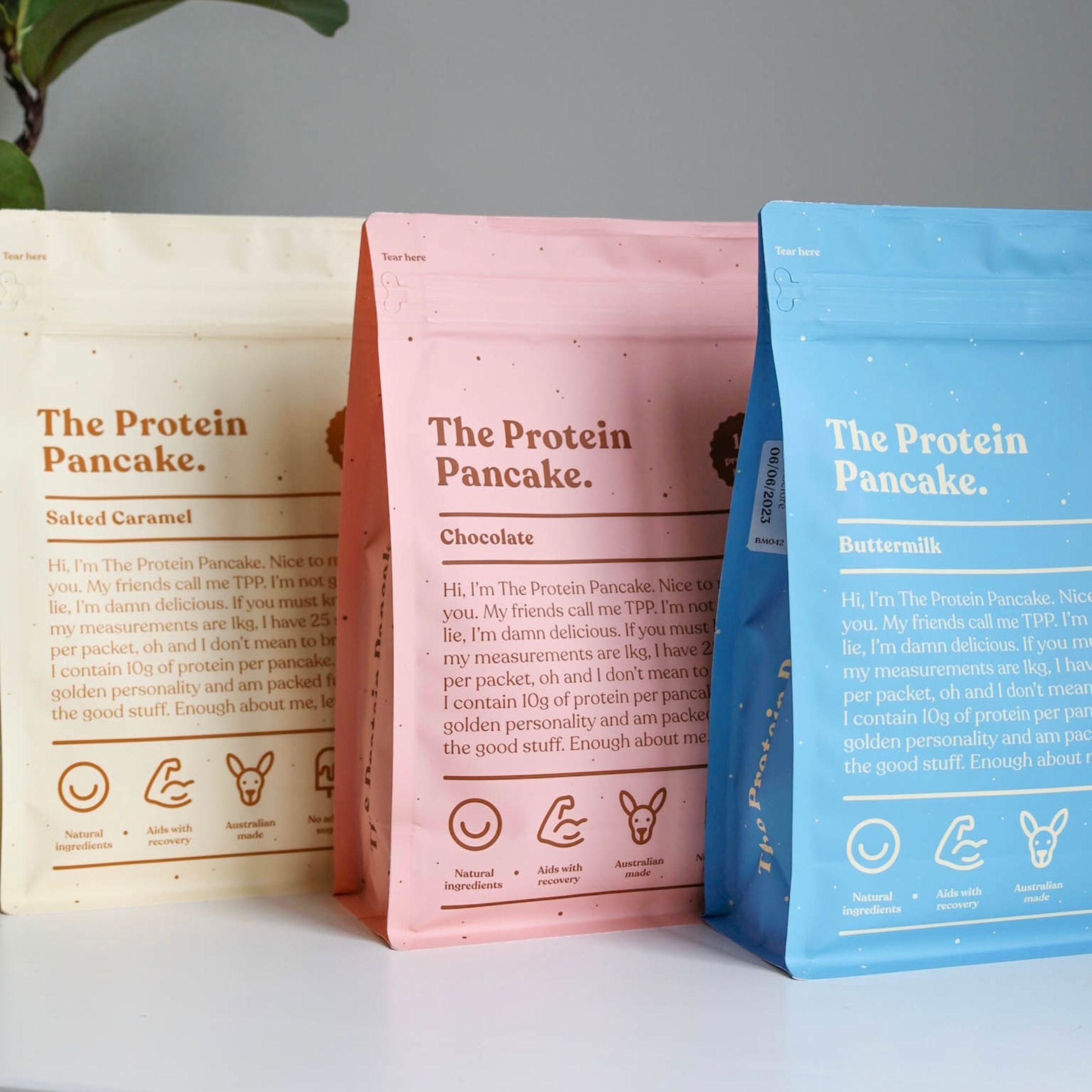 The Big Stack
---
Stack it up and save
This three pack of protein pancake flavours saves you money and fills your belly. A great way to try out our range or just the flavours that take your fancy! Pick one of each flavour or just double, even triple down on your favourites! 
What you'll get with The Big Stack:
🥞 The best flipping value 
🥞 3 x Large bags (3kg total)
🥞 Flavour combination of your choosing
🥞 75 Serves
🥞 Discounted bundle price 
The Large option for Cookies & Cream + Maple Bacon will be 2x 500g bags at this time. :)  
PLS NOTE: Recipe Tweak (better nutrition than on some old packaging)

As of late 2022, our nutritional information has slightly changed (for the better) as per the correct table in the product photos. Our current packaging reflects our old recipe until sold through! Don't stress the macros are better. 🫶

Lower sodium, higher protein, more fiber. We have tried to update as much as we can on MyFitnessPal but appreciate your help in fixing any you catch with the old macros.
🥞 Natural ingredients. 
🥞 No added oils, gums or other nasties.
🥞 Organically and locally sourced.  
🥞 Just add water and get flipping.
🥞 No 'proteiny' taste.
🥞 Made in South Australia.
Wheaten flour 
Whey protein isolate
Pea protein isolate
Baking powder
Bicarbonate soda
Maca powder
Sea salt
Thaumatin (natural sweetener)
Flavouring powders

Click here for more info.
Per 40g serving (one pancake)

🥞 138 Calories
🥞 10.9g protein
🥞 0.4g fat
🥞 21.7g carbohydrate
🥞 1.2g of fiber

(Based on Buttermilk but see 2nd product photo for each flavour to see nutritional information)

40g serve = 1/4 cup = 1 large pancake = easy tracking for you! 😊

Click here for help on calculating how much protein you should get in YOUR diet!
✈️ A note on international shipping

Yes, we are based in Australia and that does mean longer shipping times... for now. Our goal is have distribution centres across the globe so everyone can enjoy fast shipping times.

Until then we ask for your understanding in longer shipping times. We have added transparent shipping estimates at the checkout so you are aware of the number of days expected for delivery for your country.

To ensure we avoid any extra delays please triple check your delivery address is entered correctly.
Pancake Calculator
Want to know how much to order?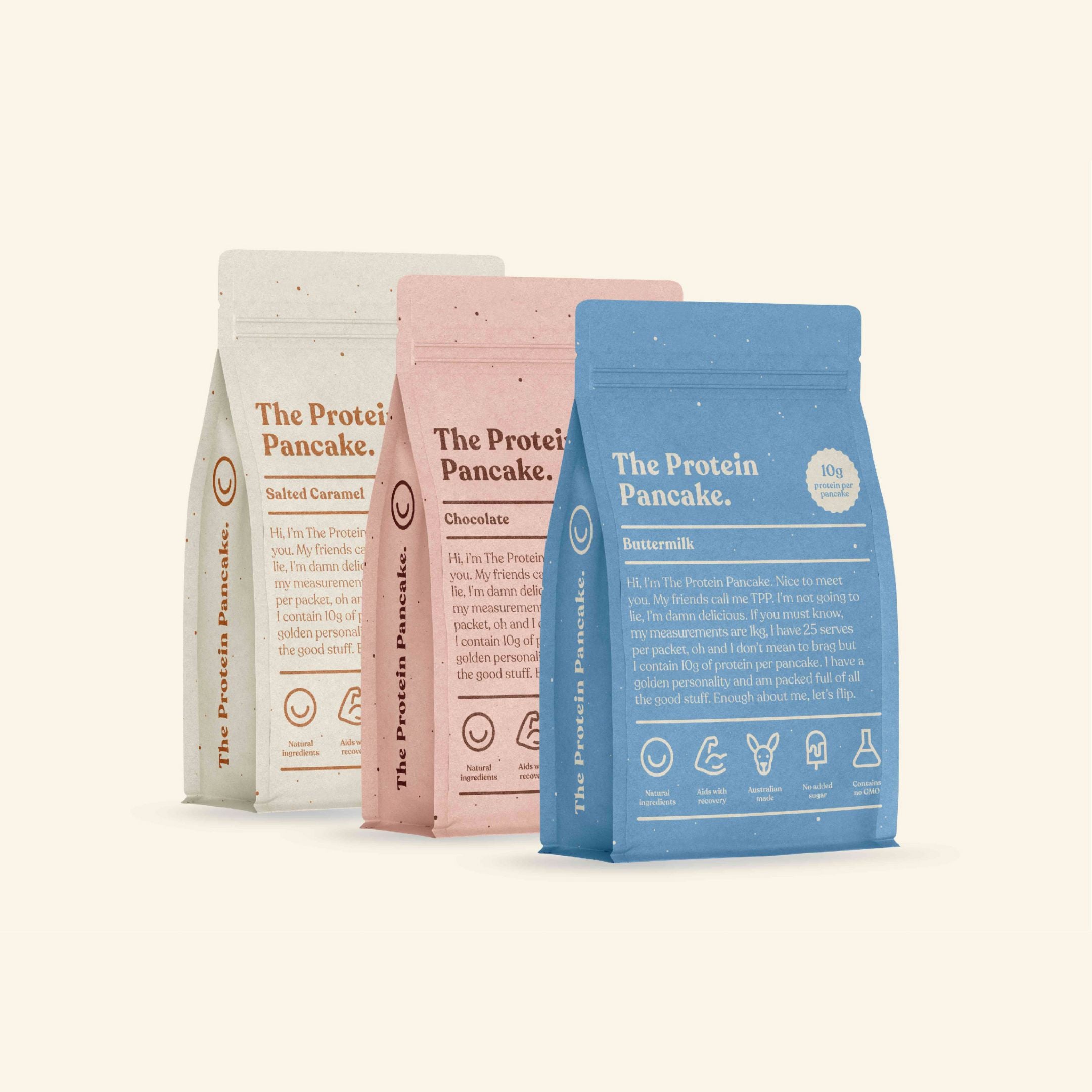 This product is rated 5.0 of 5.0 stars.
It has received 51 reviews.
A Delicious and Keto-Friendly Treat!
A friend recommended trying out "The Protein Pancake" and I must say I was pleasantly surprised. I ordered three flavours: Buttermilk, Salted Caramel, and Chocolate, and they truly delivered on taste and quality.
My favourite among the trio was the Buttermilk flavour, with its classic pancake taste and a hint of sweetness. The Salted Caramel came in a close second, offering a delightful balance of sweet and savoury. The Chocolate flavour was good too, though it didn't quite match the deliciousness of the other two.
One of the standout features of these pancakes is that they taste remarkably like real pancakes. What's even better is that there's no lingering protein shake aftertaste, making them a perfect option for those looking to incorporate more protein into their diet without compromising on flavour.
Preparing and enjoying these pancakes was a breeze. They were easy to make and even easier to eat, thanks to their fluffy texture. They didn't feel heavy or overly dense, which can sometimes be the case with protein-infused foods.
I was also impressed with the efficient shipping process from Australia to Singapore. The pancakes arrived swiftly and in excellent condition. The packaging was well-designed and sturdy, ensuring the product's quality was maintained during transit.
Perhaps the most significant benefit for those following a keto diet is that these pancakes are both filling and keto-friendly. They provided a satisfying and guilt-free breakfast/lunch/dinner option that helped me stay on track with my fitness goals.
I would highly recommend "The Protein Pancake" to anyone looking to incorporate more protein into their diet while enjoying the taste of real pancakes. With delicious flavours, easy preparation, fast shipping, and keto-friendly options, it's a winning choice for a tasty and nutritious meal or snack.
Delicious high Protein pancakes!
Tasty, healthy, high in protein, quick and easy to make are the key descriptors when it comes to The Protein Pancake! The cookies and cream is my favourite so far, these pancakes are simple and easy to make great for a quick snack or a quick breakfast in the morning! They are always prompt with their orders and processing and keep you informed if there are any questions. Quick and responsive best describe their communication with customers! I can't recommend this product more highly!!
Amazing!!
Still the best pancakes ever, my whole family love them too ❤️
If you have any more questions that aren't found on the full FAQ page. Please contact us at hello@theproteinpancake.co
More FAQs
Do you ship internationally?

Absolutely we do. We ship across the globe, no flipper gets left behind!

As we continue to expand internationally we are always striving to improve our international shipping times. Feel free to reach out if you have any questions!
Your order will be processed and sent from our warehouse within 2 business days (normally same day or 1 day), using tracked shipping via AusPost for Australian and International orders.

Standard AUS: 3-8 business days
Express AUS: 1-4 business days

Standard INTERNATIONAL: 8-14 business days
Express INTERNATIONAL: 3-7 business days
Our protein pancake mix is made from high quality natural ingredients including whey protein isolate, wheat flour, pea protein isolate and maca powder. Please see our full list of ingredients here.
One serving is 40 grams which can be measured out using a 1/4 cup of our dry mix. So 1 pancake = 1 serve, simples! (pending pancake size of course)

Bag sizing.

So you'll get 13 serves our the Medium - 500g bag and 25 serves with our Large - 1kg bag.
If you have any more questions that aren't found on the full FAQ page. Please contact us at hello@theproteinpancake.co
More FAQs
More than just a pancake...
Explore our recipes.
View all
Recipe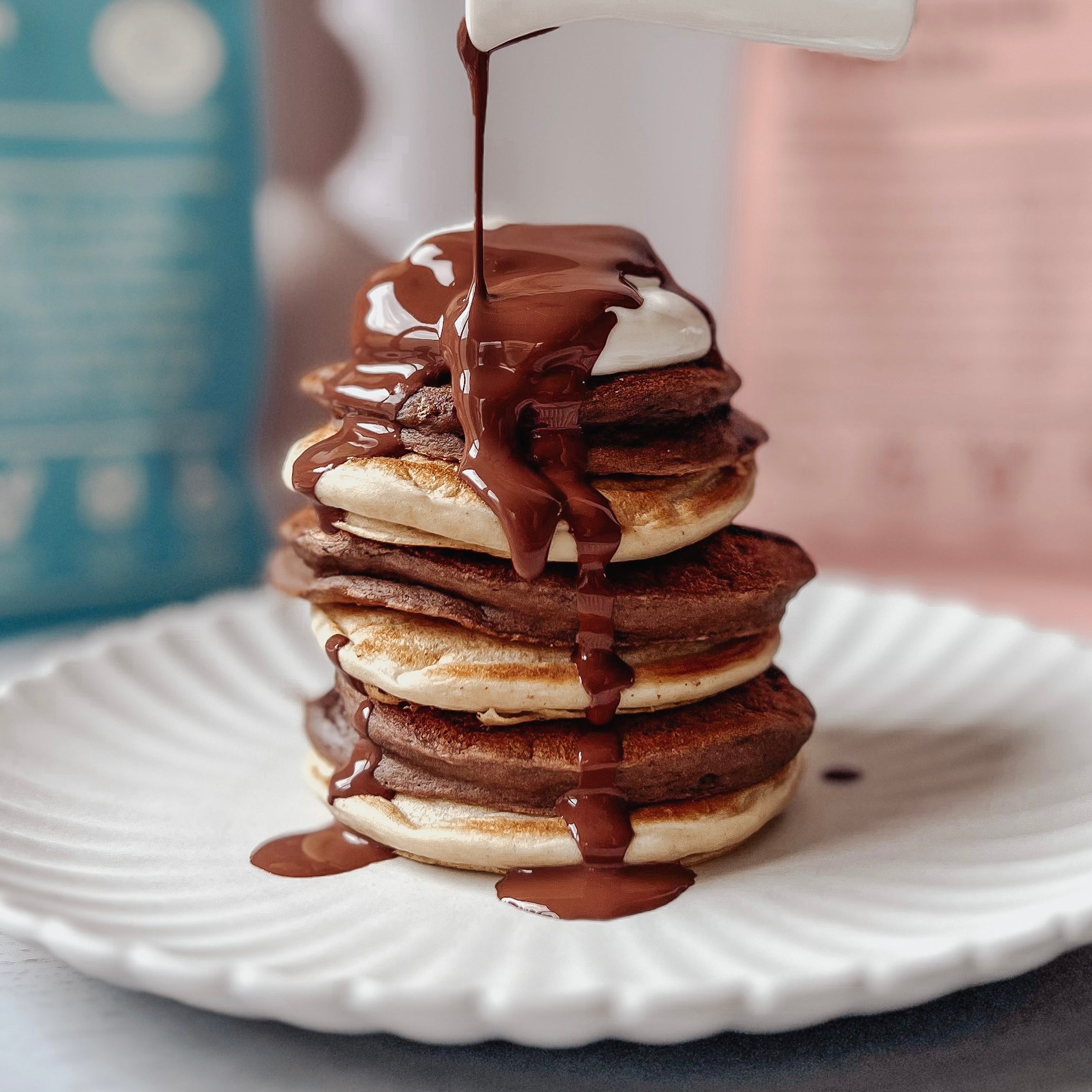 Just a cheeky reminder that it is more than okay to mix and match your pancake mixes... try this one on for size. Chocolate & Vanilla Protein Pancake stack! 
Recipe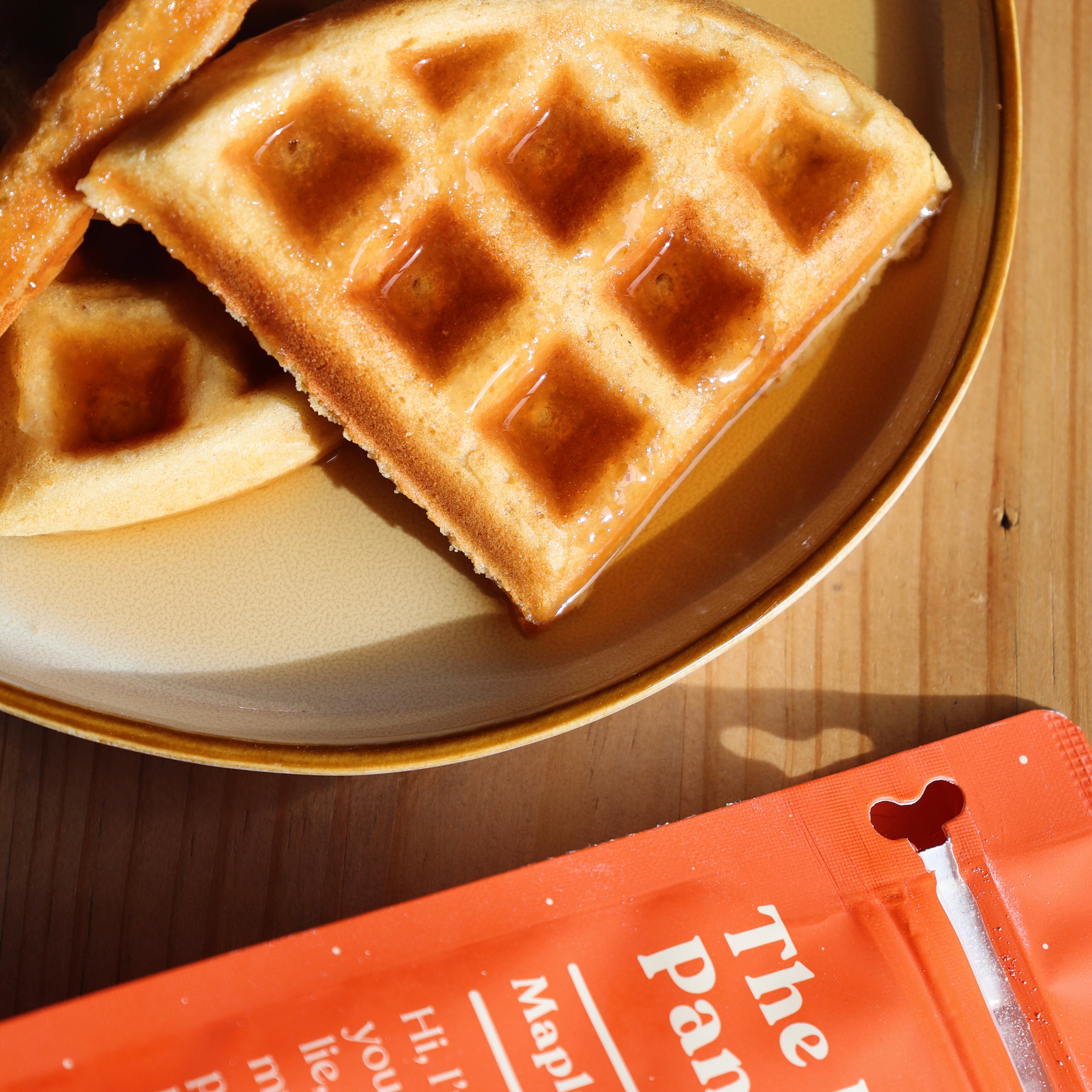 Introducing The Protein Waffle! A simple twist on our classic protein pancake mix to have as healthy afternoon snack, or to replace your morning stack! 
Recipe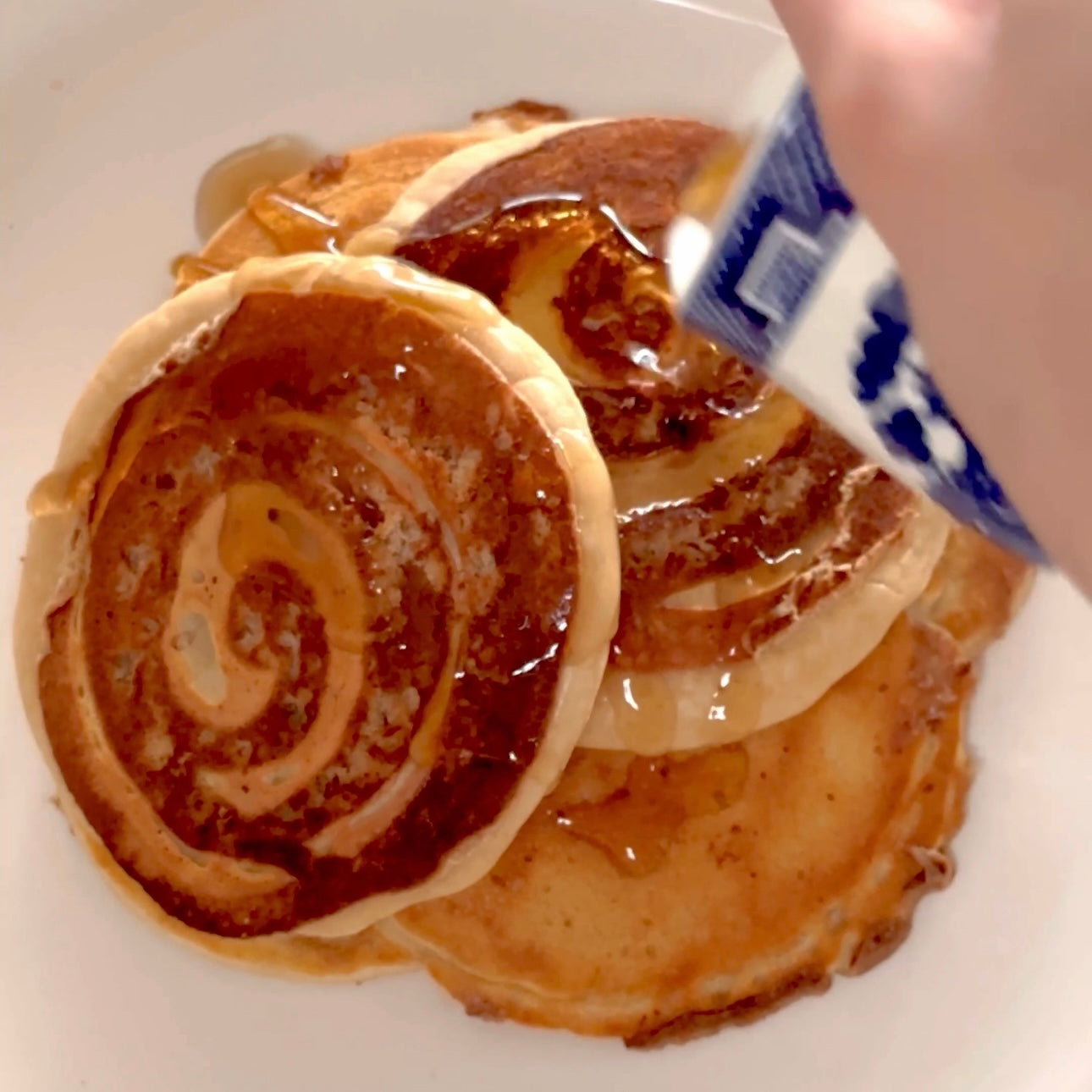 You're going to love this super simple recipe - Cinnamon Scroll Pancakes 🥞👩‍🍳