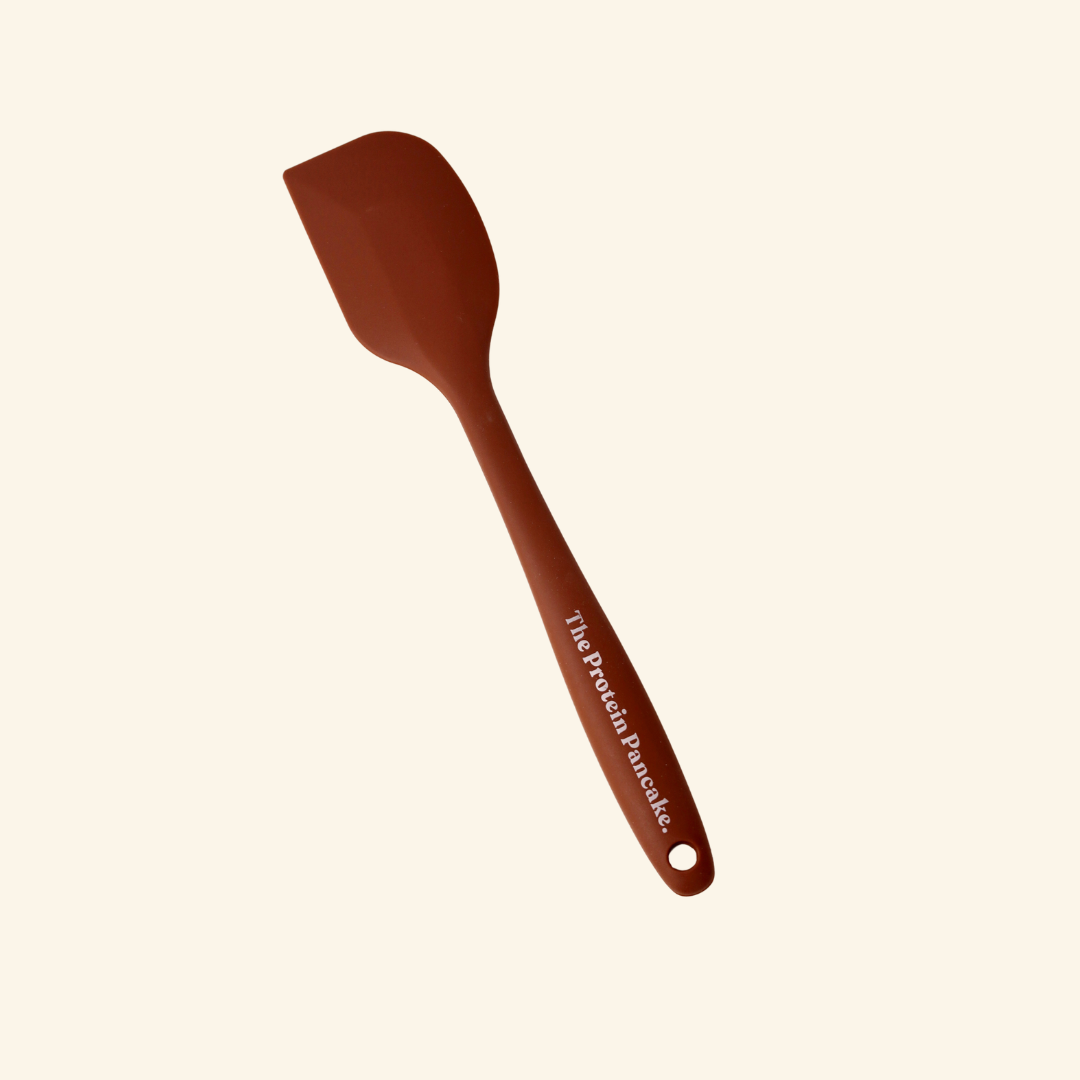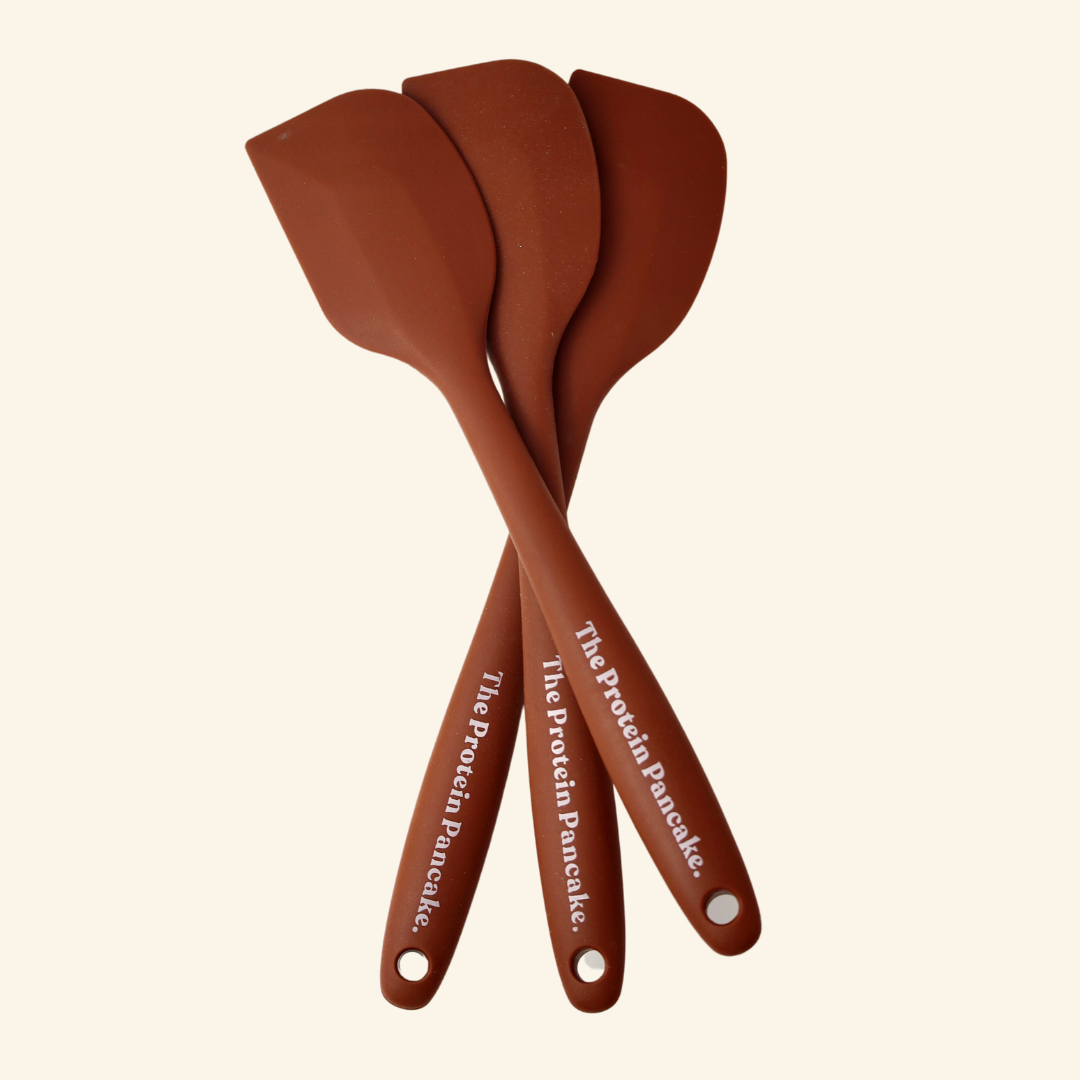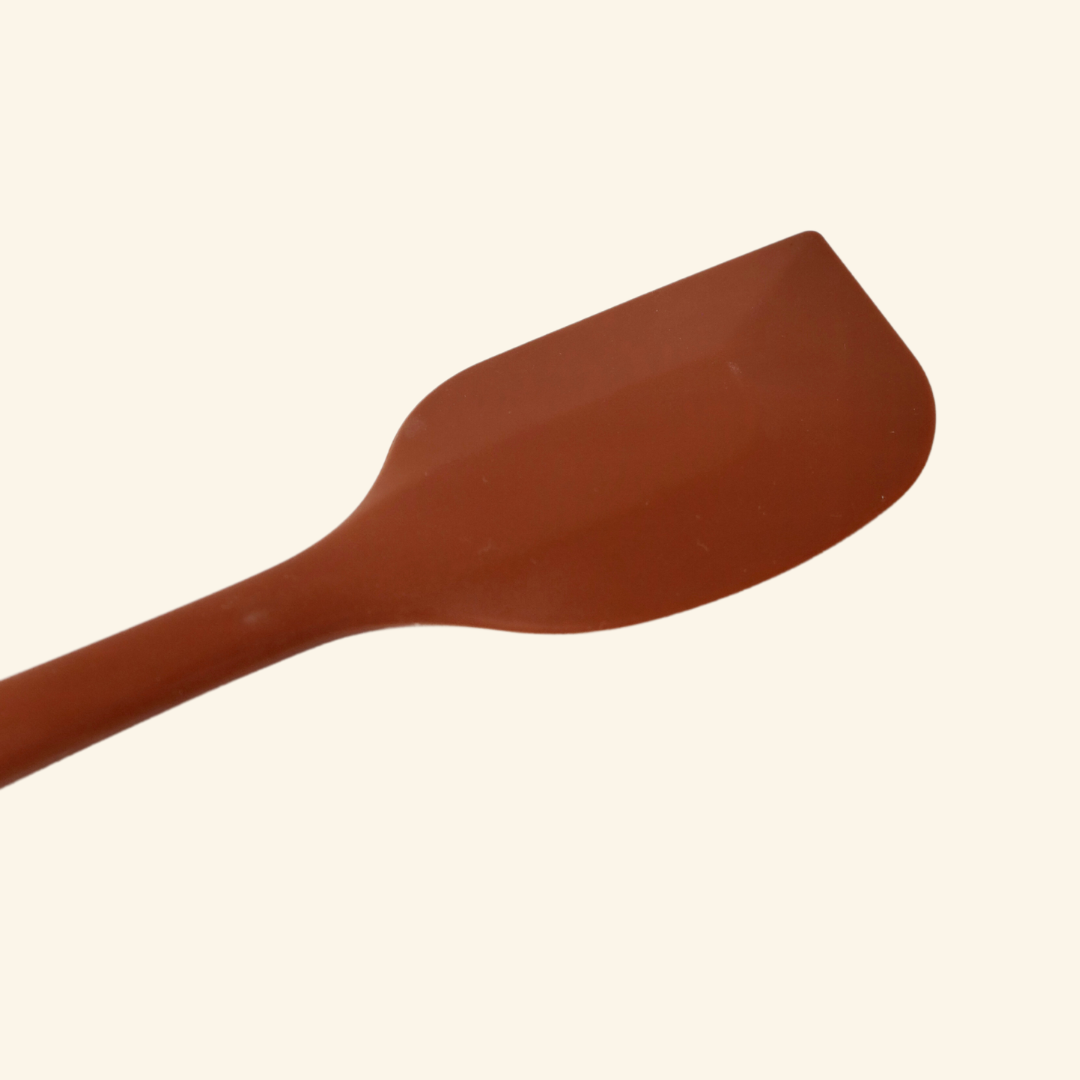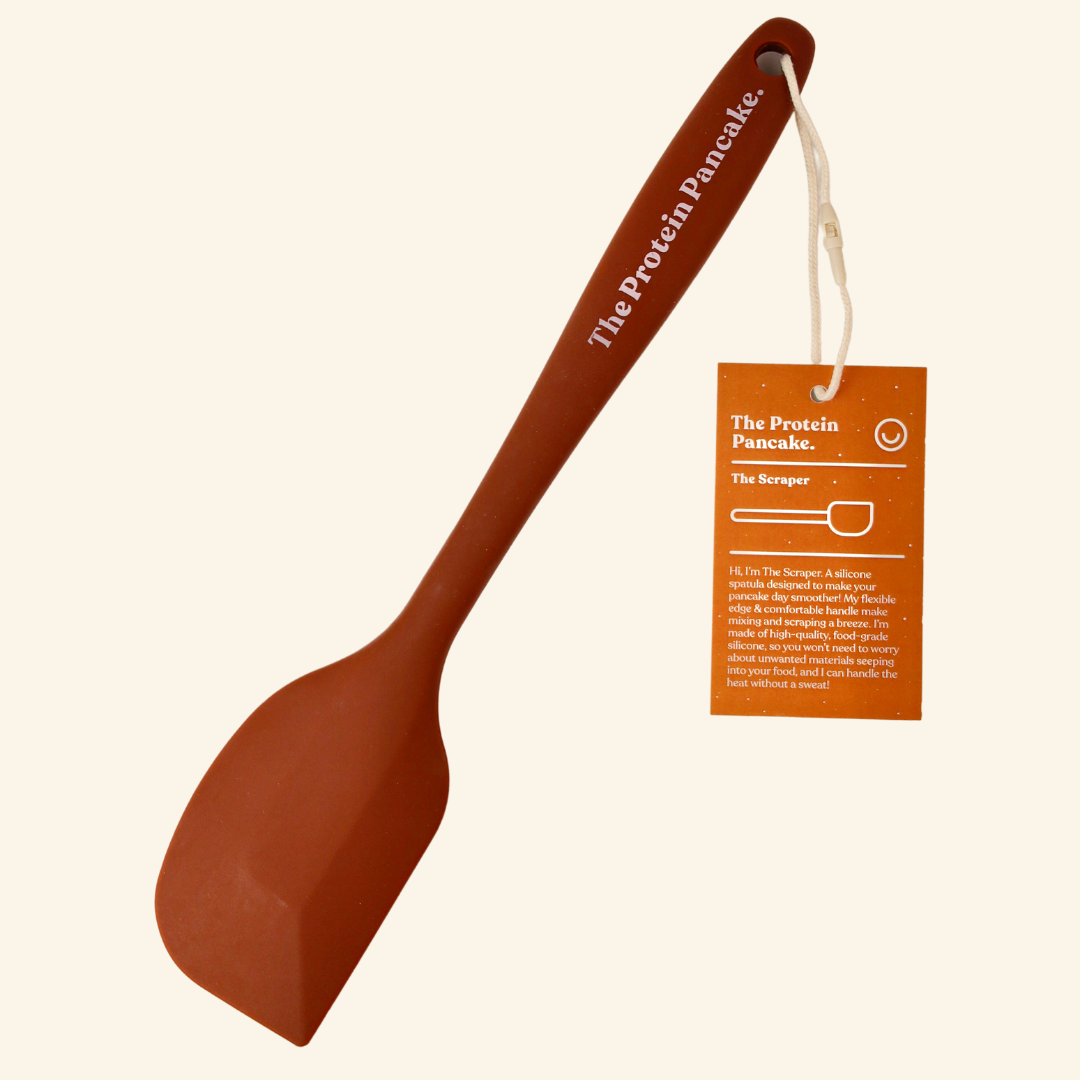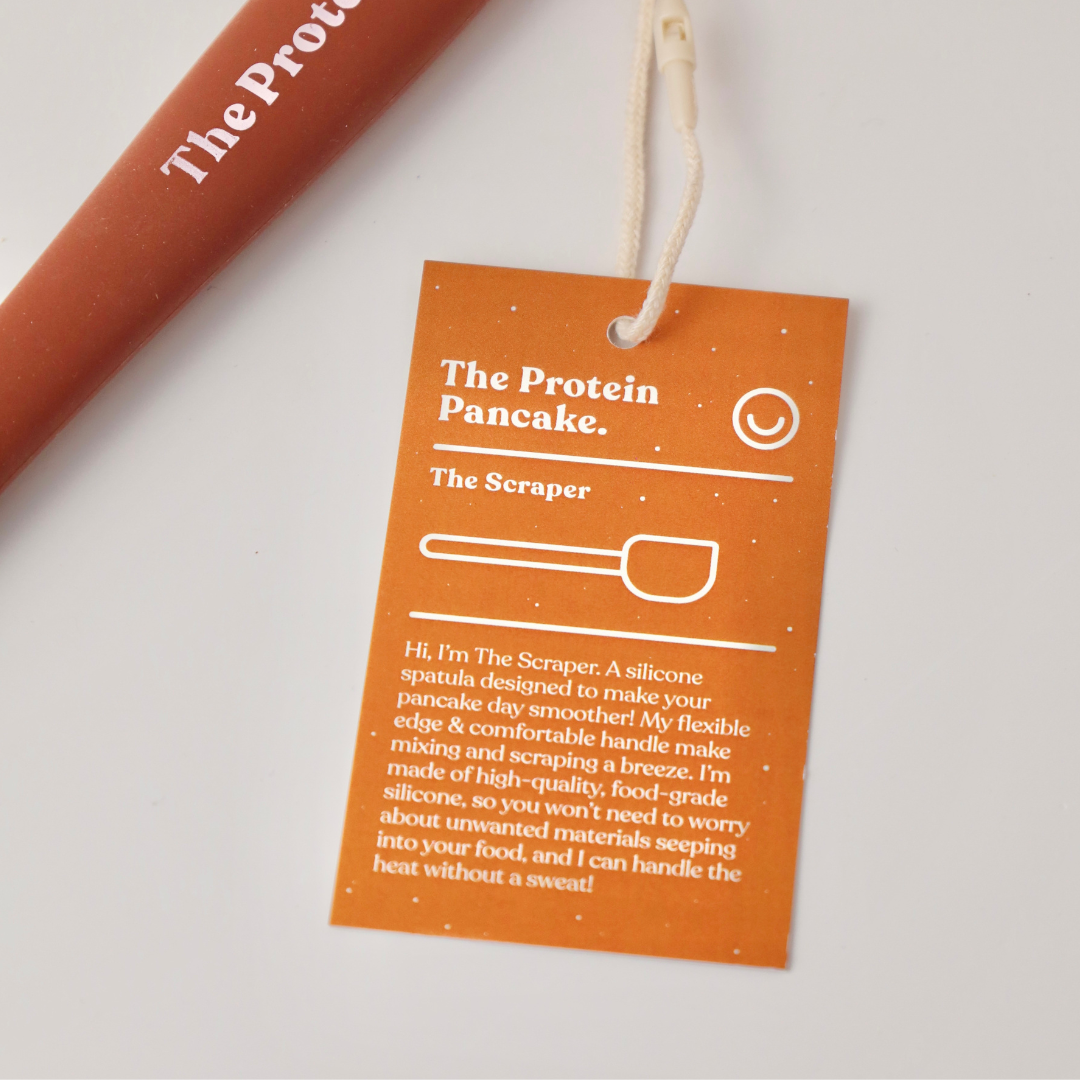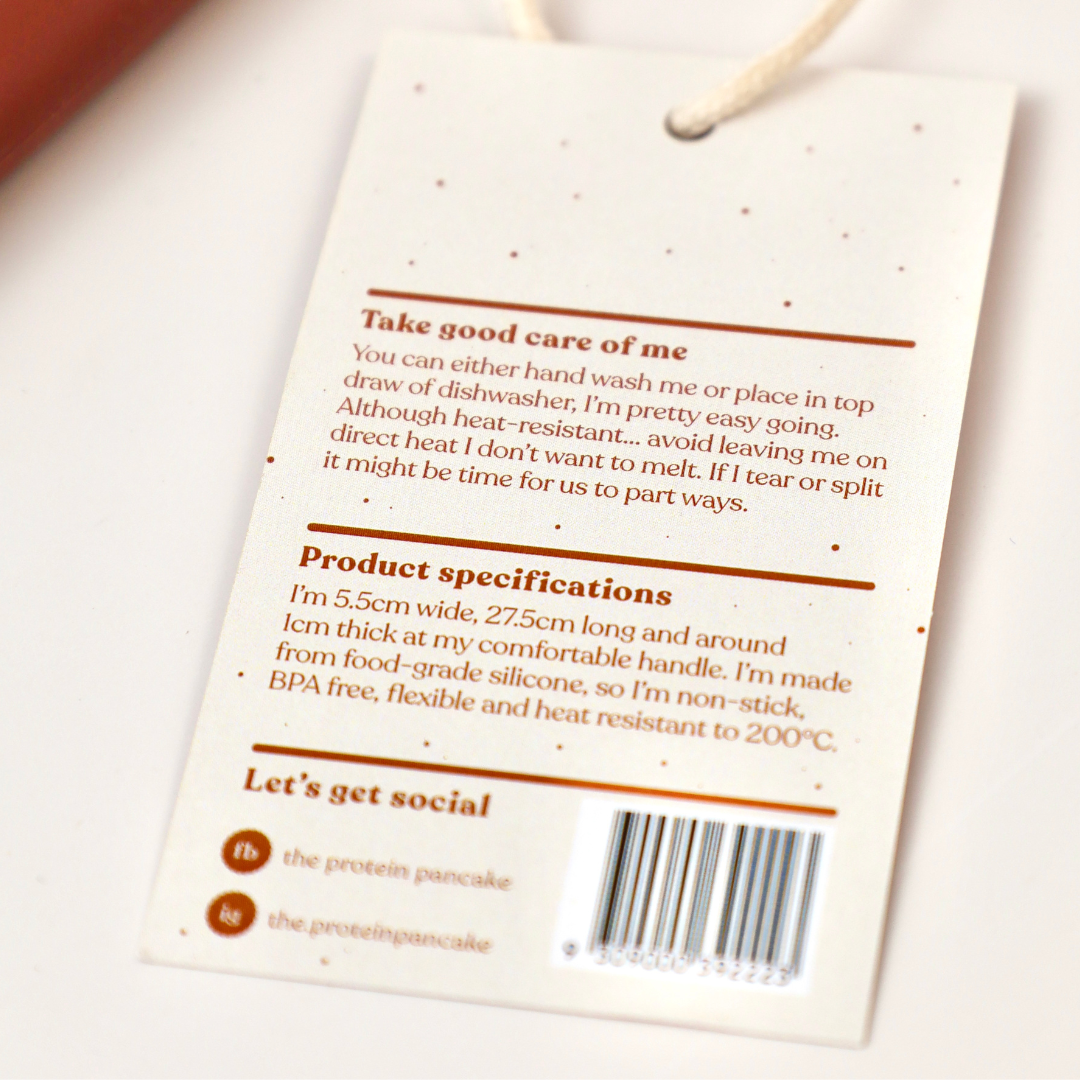 The Scraper
---
Silicone mixing scraper! 

Hi, I'm The Scraper. A silicone spatula designed to make your pancake day smoother... plus I'll make sure no batter get's left behind! My flexible edge and comfortable handle make mixing and scraping a breeze. I'm made of high-quality, food-grade silicone, so you won't need to worry about unwanted materials seeping into your food, and I can handle the heat without a sweat!
You can either hand wash me or place in top draw of dishwasher, I'm pretty easy going.

Although heat-resistant... avoid leaving me on direct heat I don't want to melt. If I tear or split it might be time for us to part ways.

I'm 5.5cm wide, 27.5cm long and around

1cm thick at my comfortable handle. I'm made from food-grade silicone, so I'm non-stick, BPA free, flexible and heat resistant to 200°C.
✈️ A note on international shipping

Yes, we are based in Australia and that does mean longer shipping times... for now. Our goal is have distribution centres across the globe so everyone can enjoy fast shipping times.

Until then we ask for your understanding in longer shipping times. We have added transparent shipping estimates at the checkout so you are aware of the number of days expected for delivery for your country.

To ensure we avoid any extra delays please triple check your delivery address is entered correctly.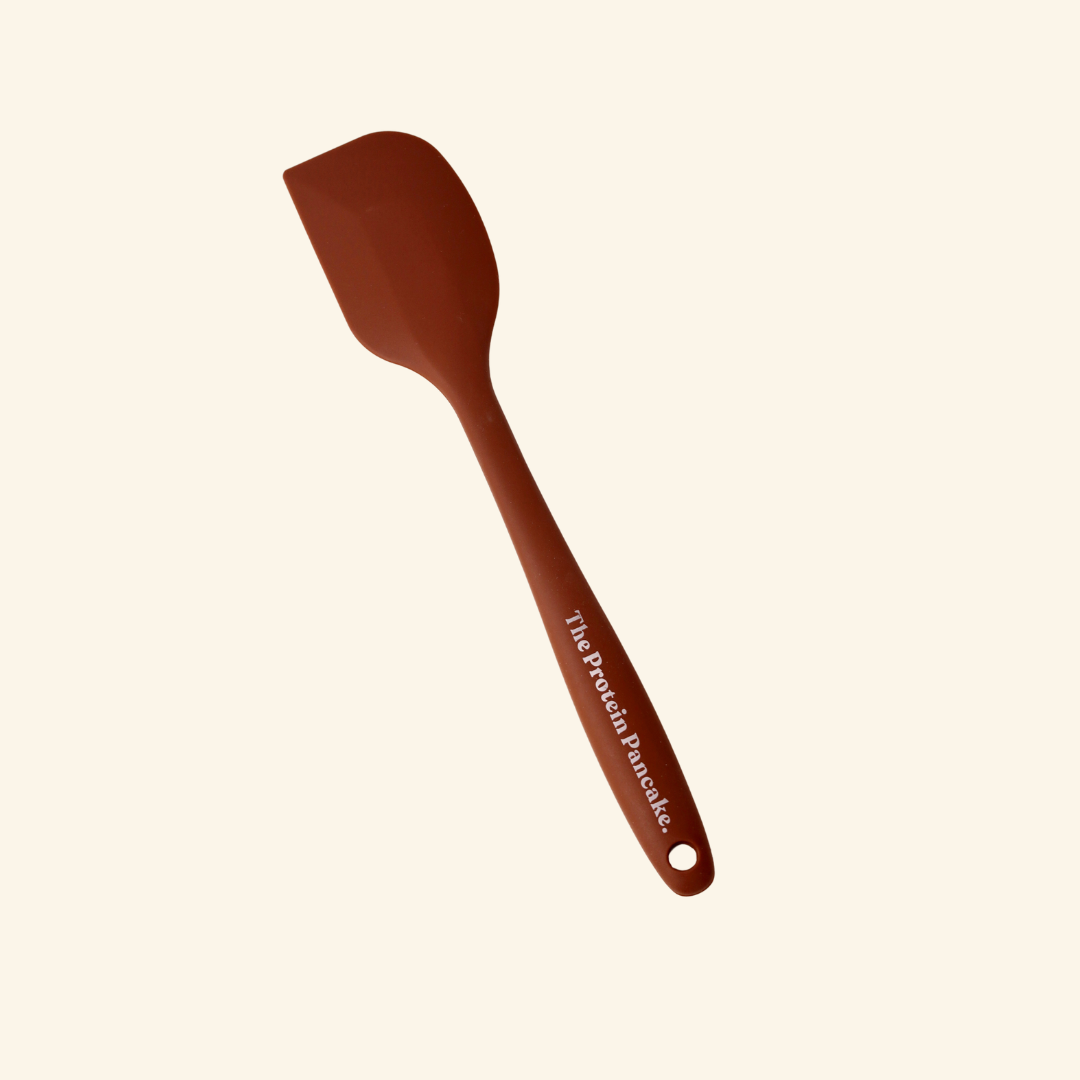 The Scraper
Sale price

$8.10 USD
Regular price

$8.10 USD
(/)
For the gram!
This is quality silicone and is great to use… but most importantly with the pan and the flipper it's so beautiful in photos 🙌🏼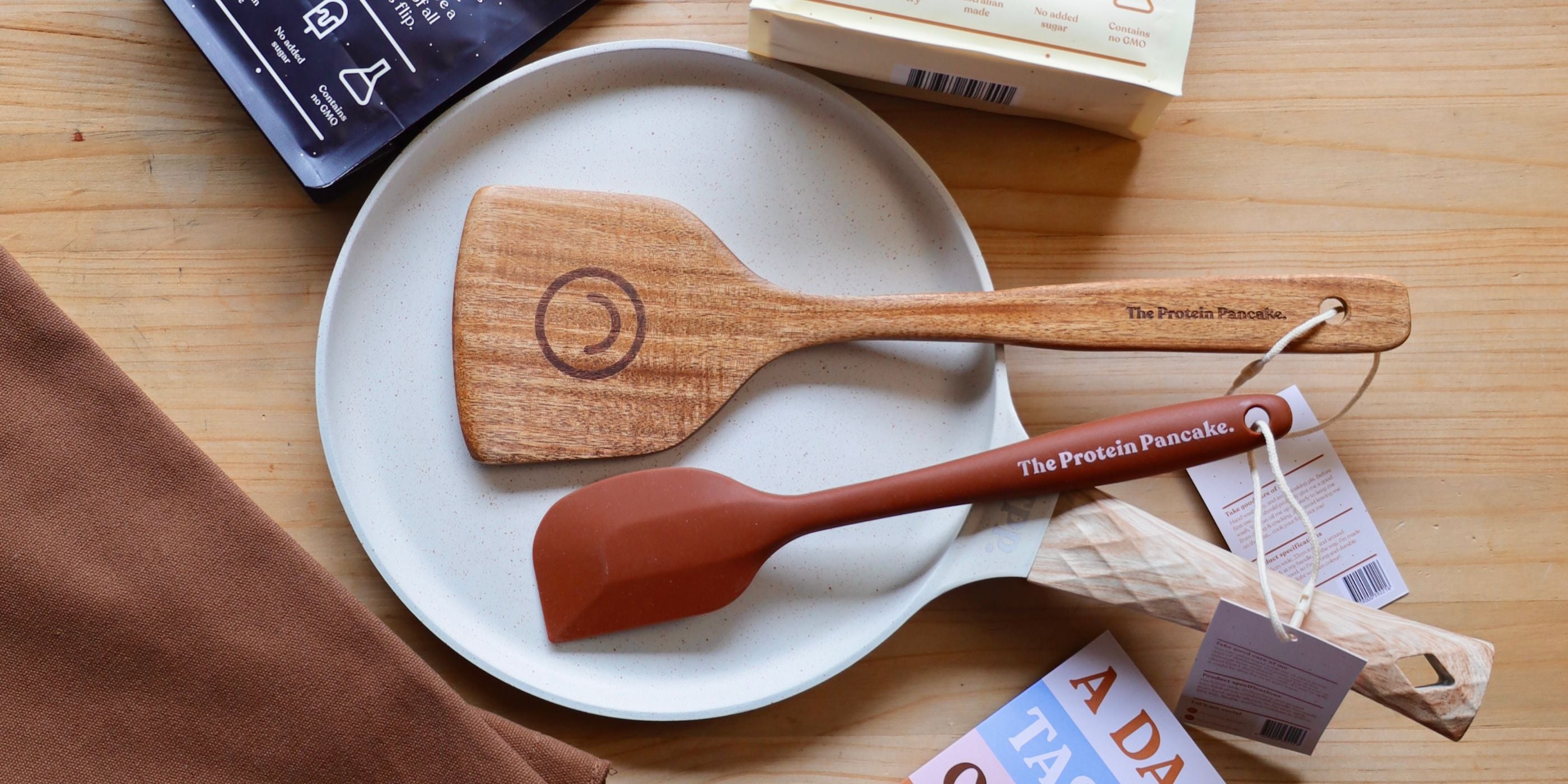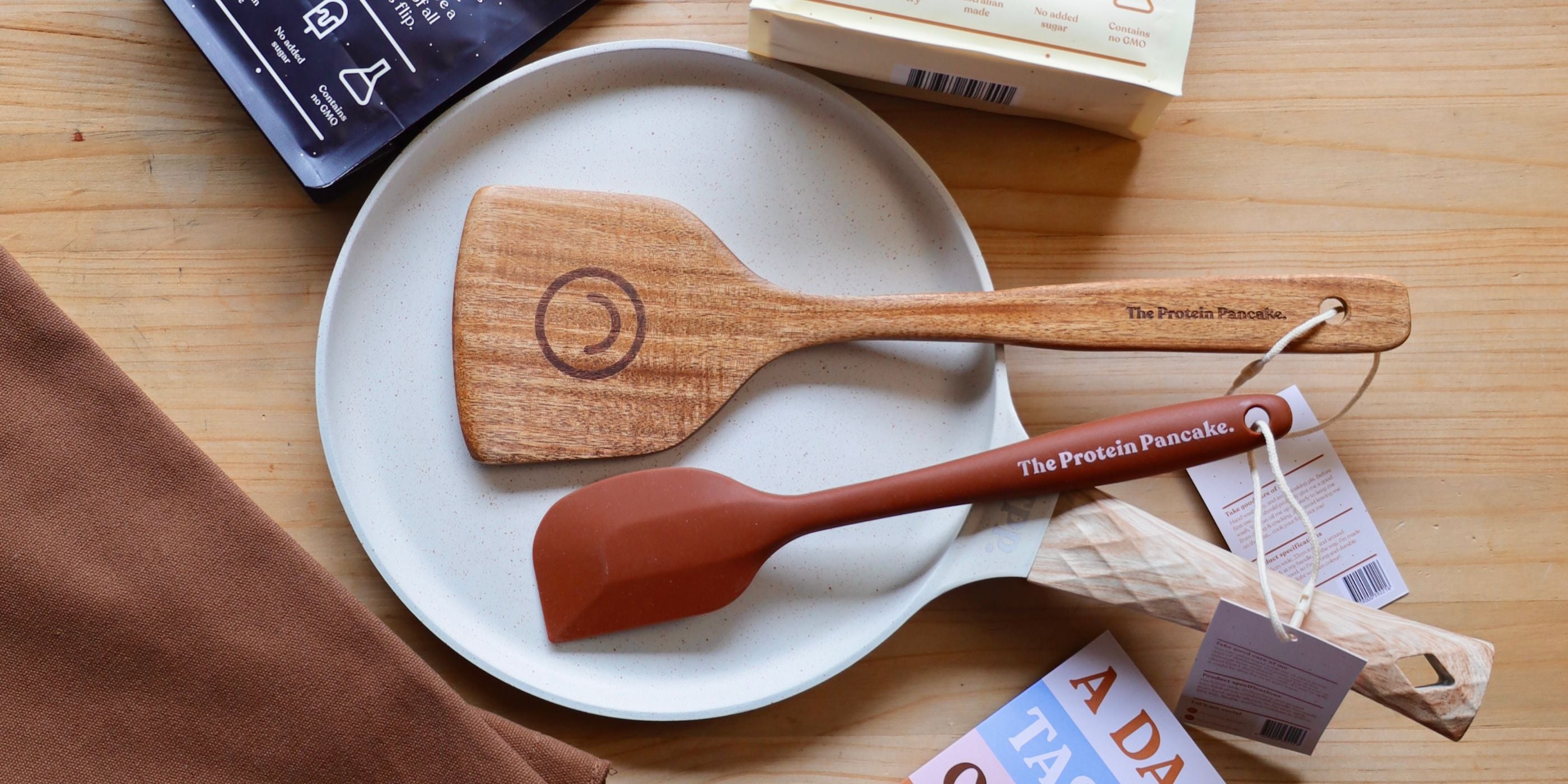 The Scraper
Your best friend whilst mixing your batter, and scraping every last bit into the pan!
The Flipper
A custom wooden spatula, sized to perfection for ease of flipping.
The Pancake Pan
Our ceramic pancake pan. Naturally non-stick & perfectly shaped for pancakes. Designed with low sides so it's easy to get your flip on!
If you have any more questions that aren't found on the full FAQ page. Please contact us at hello@theproteinpancake.co
More FAQs
Do you ship internationally?

Absolutely we do. We ship across the globe, no flipper gets left behind!

As we continue to expand internationally we are always striving to improve our international shipping times. Feel free to reach out if you have any questions!
Your order will be processed and sent from our warehouse within 2 business days (normally same day or 1 day), using tracked shipping via AusPost for Australian and International orders.

Standard AUS: 3-8 business days
Express AUS: 1-4 business days

Standard INTERNATIONAL: 8-14 business days
Express INTERNATIONAL: 3-7 business days
Our protein pancake mix is made from high quality natural ingredients including whey protein isolate, wheat flour, pea protein isolate and maca powder. Please see our full list of ingredients here.
One serving is 40 grams which can be measured out using a 1/4 cup of our dry mix. So 1 pancake = 1 serve, simples! (pending pancake size of course)

Bag sizing.

So you'll get 13 serves our the Medium - 500g bag and 25 serves with our Large - 1kg bag.
If you have any more questions that aren't found on the full FAQ page. Please contact us at hello@theproteinpancake.co
More FAQs
More than just a pancake...
Explore our recipes.
View all
Recipe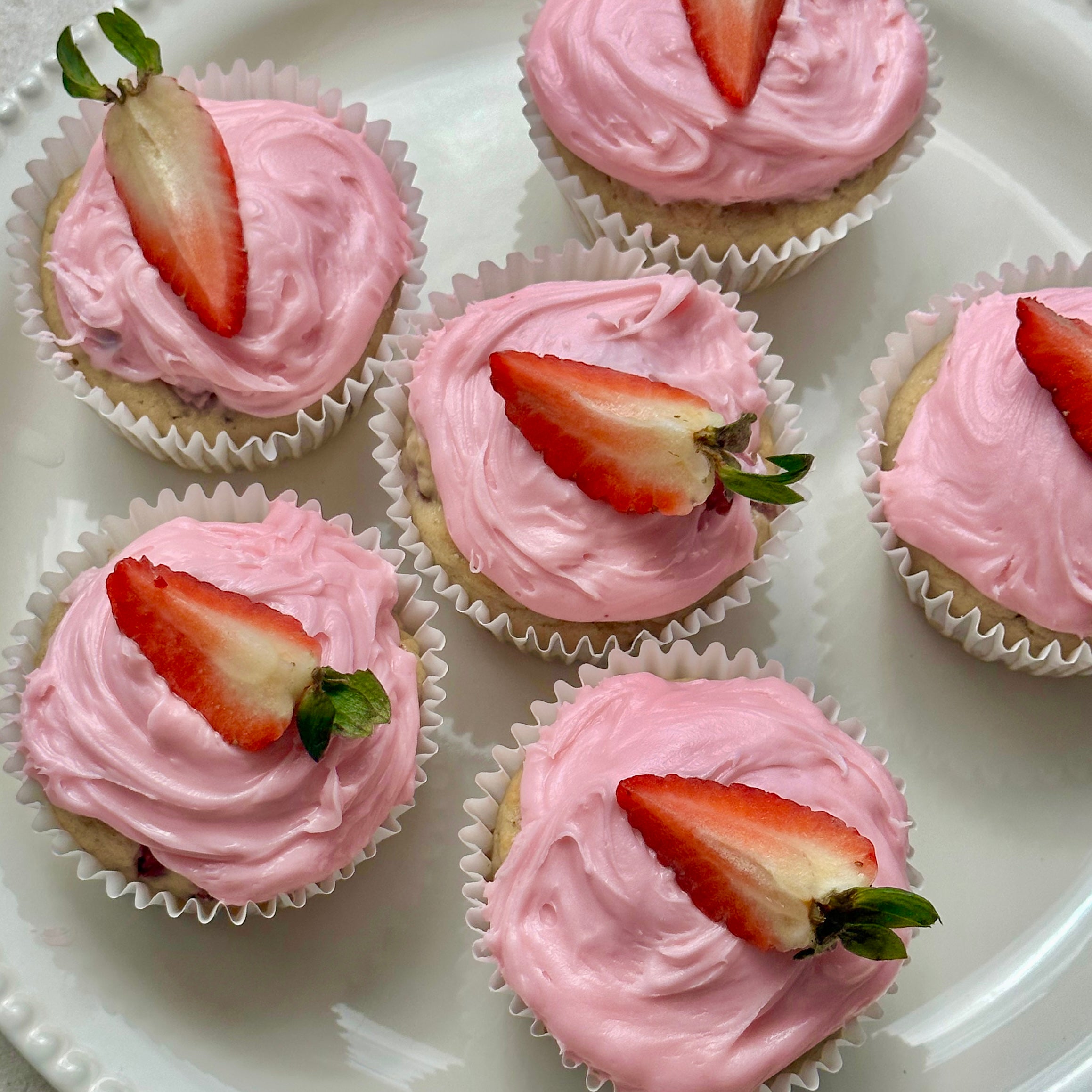 Strawberry Muffin Recipe Looking for a different way to try our pancake mix? You can actually use it to bake delicious, high protein muffins. The perfect weekly snack... without the guilt. We have ...
Recipe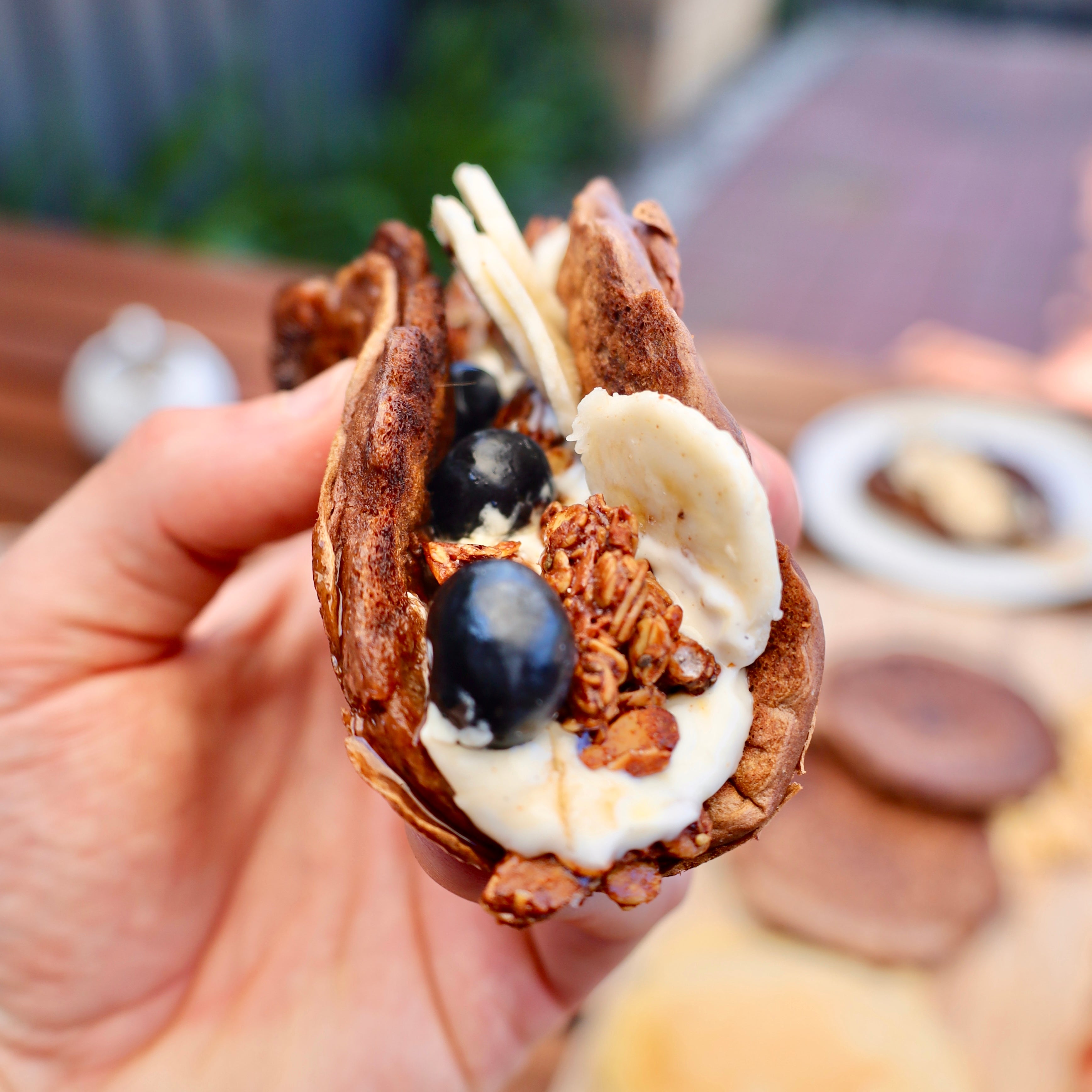 Pancake Tacos - Chocolate & Buttermilk
Pancake Taco Recipe In case you needed another reason to try pancake tacos, here it is. We whipped up 2 pancake taco variants on a grazing board and it's such a lovely way to feed the family!  Flav...
Recipe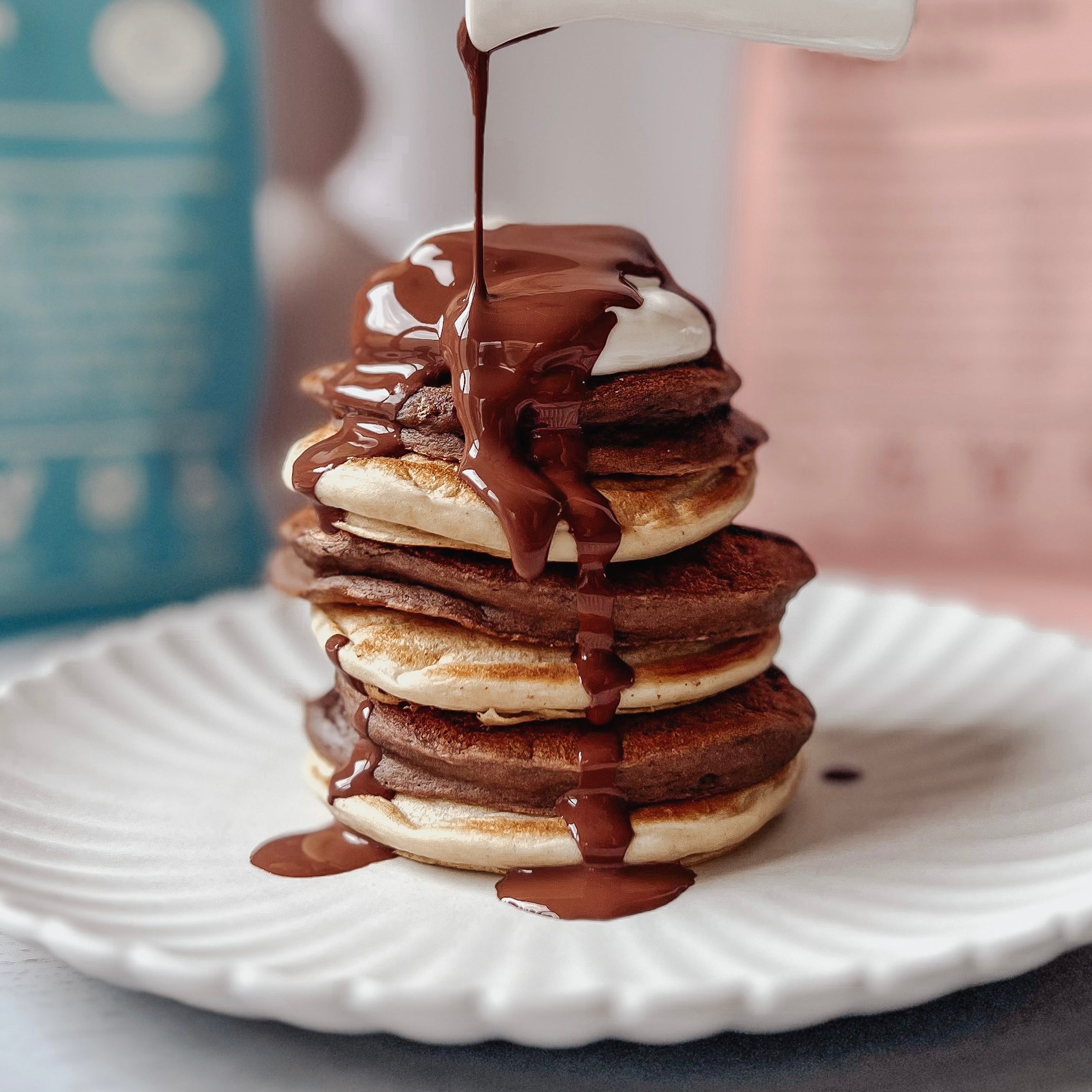 Chocolate Vanilla Protein Pancake Stack Blending the flavours just seems to work way too well, try this on your next flip up!  We used Vanilla Greek Yoghurt and dark Chocolate sauce for the topping...